New Evaer skype video recorder is available now,with this version multi-languages is supported. You can change the language at the Evaer–>Tools–>Language as the following screenshot: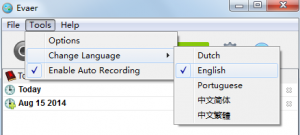 Currently we support five languages as the screenshot shown above. If you are interested in translating, you can also customize the language yourself with several steps below:
First, please go to Evaer installation path to find the "lang" file, normally, it should be C:\Program Files\Evaer\Lang
Second,translate the language based on the english language template.
Third,when you finish the translation, upload the new language file to Evaer language package and the path is same with the step1.
After these steps, you just need restart the Evaer Skype recorder and then enjoy it.
We will be appreciated if you would like to share us the multi-language package, and our email is support@evaer.com