We recently released a new version Evaer video recorder for Skype.
The new version has some issue fixed and added below exciting features.
1. Preview the output video while recording Skype video calls – It means "What You See Is What You Get",  that you can see the video call recording result immediately without waiting for the end of the recording.  To preview your video when you recording the Skype call that just need to turn on the "Enable video preview when recording video streams" option at Evaer Advanced settings.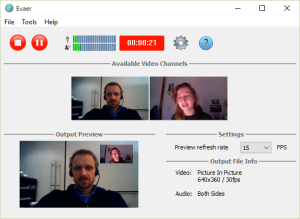 2. The Picture-In-Picture video recording mode has added four new options, that you can put your local image at Top-Left / Top-Right/  Bottom-Left / Bottom-Right position (At Evaer menu Tools > Options > Recording Settings tab).
These new features request Professional license,  please upgrade your license if you have already the Standard license.
The license upgrade offer 30% discount at https://www.evaer.com/upgradetopro.htm