1, Start Evaer software and make sure it's the latest version (Get the latest version from http://www.evaer.com/download.htm). We recommend to use MP4 format with H.264/MPEG-4 AVC Codec  (in evaer menu 'Tools >options ' > 'Recording settings' tab> Video compressed by option) to get best video quality for recording Skype video.
2, Place a call with a skype account  (You can test the video recording feature by yourself refer to the link http://www.evaer.com/faq/index.php?action=artikel&cat=2&id=43&artlang=en ).
3, You can see other side video after the conversation connected.
4, Click Evaer 'Start recording' button to record the skype video.
5, Evaer will show the recording video stream count in the interface as below picture.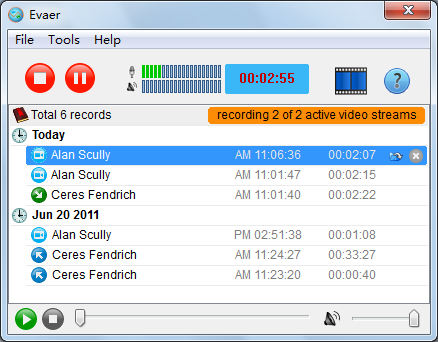 Free download the latest Evaer video recorder at http://www.evaer.com/download.htm